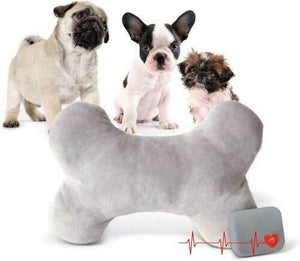 New in store - Mothers Heartbeat Pillow
New in store – The Mothers Heartbeat Pillow    Your pup may cry for a number of reasons, but one common reason is the absence of his mother's heartbeat. The rhythmic sound of a heartbeat is calming for young pups. Placing a Mothers Heartbeat Pillow in his bed is one way to help stop your little fur baby from crying. Puppies cry out of fear, boredom and loneliness. Imagine being yanked from your environment of soft, warm bodies and a mother's steady heartbeat. The change from living with litter mates and a mother can cause separation anxiety for a pup. To magnify the loneliness, your new pup probably had a lot of attention when you first brought him home -- lots of hugs and kisses. Now, he's alone with none of the usual sounds and smells.
Turn any pet bed into a soothing resting spot! Help soothe and calm your new puppy or kitten with the melodic vibration of a mother's heartbeat. The ingenious design of the Mother's Heartbeat Pillow creates the soothing feel and sound of a maternal heartbeat, feels comfortable and relaxes your pet. The Heartbeat rhythm is specifically designed to mimic the heartbeat of a mother dog. The Mother's heartbeat helps pets transition to their new home and is perfect for eliminating nuisance barking during the kennel training / housebreaking phase. It can provide ongoing stress relief for adult dogs and cats during travel, illness, thunder, fireworks and reduces anxiety and stress for an overall happier & healthier pet. Though heartbeat toys are typically used with puppies, dogs of all ages may enjoy snuggling with one.
NO Scent - Neutral & Odourless, no chewing attractant and no unpleasant odours
The Mothers Heartbeat toy helps reduce negative behaviour; less barking/whining during crate training
Includes a machine washable pillow and heartbeat device and comes with a One-year limited warranty. 
The Mothers Heartbeat Pillows come in 3 different heartbeats per minute based on breed sizes.
Included with each Mothers Heartbeat Pillow is a heartbeat device. The Heartbeat device installs into pillow's zippered pocket. Batteries are included. Based on estimated heartbeats of the breed of the parents and puppy/kitten.
Small breed, up to 20 lbs.
Medium breed, up to 80 lbs.
Large breed, over 80 lbs.
Kitten, 1 size fits all.
---